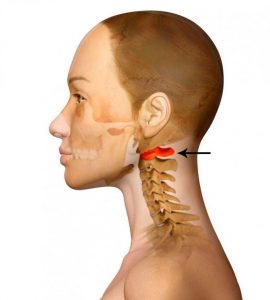 The use of EHF therapy for the treatment of this disease is primarily due to the ability of EHF waves to relieve pain, as well as their anti-inflammatory and immunostimulating effects.
Indications
Both mono-and combined with medication EHF therapy in patients with cephalgia (mainly of vascular origin), lumbosacral radiculitis, vertebrobasilar insufficiency, tunnel and pain syndrome of various origins. For severe pain, only combined EHF therapy is used.
Used HF emitters
Frequency 40-43 GHz, wavelength 7.1 mm (red).
Frequency 52-57 GHz, wavelength 5.6 (green).
Noise-frequency 52-78 GHz (yellow).
Treatment regimen
1-10 sessions of 5-10 min. (no more than 20 minutes).
Localization
Zones of influence: pain points – for tunnel and pain syndromes; the area of spinous processes C7 — for vascular cephalgia.
Clinical effect and control
The General condition of patients improves, after 2-5 procedures, the pain syndrome is stopped or the frequency of pain attacks is reduced. Control is performed based on the patient's subjective feelings (pain syndrome, General condition). When cephalgia and vertebrobasilar insufficiency — in terms of rheoencephalography and ultrasound dopplerography.
Contraindications
Absolute contraindications have not been identified (see General contra-indications for EHF-therapy).
p/s Our English is not perfect . We will be happy if you point out transcription errors in comments. And you can write your questions also about this treatment protocol.