Description
BioNice is the world's first phototherapeutic cryoapplicator, created by BioNIce GmbH in Germany. This is a unique device that allows you to heal, vitalize and refresh the skin and subcutaneous tissues. Website bionice-global.com
The device is patented in Europe and manufactured in Germany. Over the last 5 years BioNice successfully passed testing at service over 2000 patients.
Technology Bionic restores and enhances vitality of the skin. To do this, combine four essential anti-aging principle: criolifting, phototherapy, active substances and mechanical impact.
For many years, each of these methods is used in anti-aging therapy to eliminate wrinkles, restore normal pigmentation, smoothing scar tissue, vascular problems and acne. However, combined with BioNice technology, these methods synergistically reinforce each other.
Ice therapy or cryotherapy + healing powers of herbs.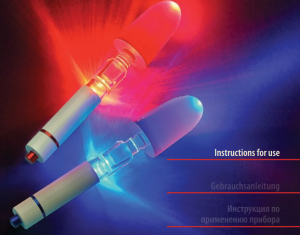 It is said that the Russian Empress Catherine the Great wiped her face and decollete area with a piece of ice every day to look young and refreshed. In ancient Egypt and Greece, cryotherapy was used to treat inflammation and injuries.
You can add your favorite essential oils or herbal infusions to the ice, which will work with the individual needs of your skin.
Blue light
It has powerful antibacterial properties for the treatment of acne without irritation, reduces oil production, prevents future breakout and offers a UV-free alternative for the treatment of eczema and psoriasis.
Red light
This increases natural hydration levels, reduces redness and inflammation, shrinks the appearance of pores, regulates oil production, improves circulation, accelerates skin repair as medically-approved treatment for rosacea.
Skincare benefits of cryotherapy are reduction in puffiness, temporary tightening of the skin, reducing the appearance of pores and giving skin radiance.
BioNice technology can be easily applied at home. The BioNice apparatus intensively affects the skin and subcutaneous tissues: it increases the permeability of the skin, ensures the penetration of active substances into its deep layers, improves microcirculation of the vascular bed and leads to the activation of all physiological processes in the skin. Therefore, it is an excellent alternative to mesotherapy.
The method provides a stable rejuvenating, rehabilitating effect and prolongs the effect of other cosmetic procedures.
The use of the BioNice device in combination with the active components included in the ice, allows to obtain a rejuvenating effect in a non-invasive way. This is especially true for patients with contraindications to invasive methods.
When using structured water to make ice, we get ice of a completely different quality. This ice significantly enhances the effect of the apparatus BioNice. Therefore, before freezing, it is recommended to structure the water with EHF device Spinor.