You can connect to the treatment of exposure to Biologically Active Points (BAP).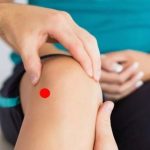 The operation takes place in the mode № 11 of the LCD device or in the mode №3 of the "mini"device.
If the point of the steam, the effect is to produce a symmetrical BAP through the day. Exposure time — 5 minutes. If you use several points, then work for 3-5 minutes each. The usual course of treatment — 10 sessions.
There are points of General action, for example, points GI.4 and E. 36. They can be used in the treatment of any disease, because the impact on them leads to a restorative effect. Enough work with each point daily (alternating through day symmetrical) on 3-5 minutes lights are flashing yellow alternately in for 7 days. Exposure to these points can be made both separately and in parallel with exposure to specific points for a particular disease.
The total time of exposure to all BAP should be no more than 30 minutes.
Violation of the functional state of the organ or system
Recommended BAP (basic)

NEUROLOGICAL DISEASE:

Neurotic disorders associated with stress, against the background of normal or high blood pressure
МС. 6
Neurotic disorders associated with stress on the background of low blood pressure
С.7
Headache, traumatic, vascular, infectious and toxic brain lesions
The impact on the projection of the carotid artery, VВ.20 
Polyneuropathy, of mononeuropathy (facial, trigeminal nerves, etc.)

LOWERED IMMUNITY:

Violation of the function of the body's defense systems — secondary immunodeficiency
GI.4; E.36 through the day
P.7; RP.2

DISEASES OF ENT ORGANS AND VISION:

The dysfunction of organs of vision (the initial degree of myopia or hyperopia
VB.14; E.2
Diseases of the ear and mastoid process (otitis media, auditory nerve neuritis, mastoiditis, etc.)
 IG.19; VB.12
Diseases of the throat and larynx (tonsillitis, pharyngitis, laryngitis, etc.)
GI.11; VC.19
Diseases of the oral cavity and teeth (stomatitis, periodontitis, gingivitis, etc.)
E.4;Е.6
Diseases of the nose and paranasal sinuses (rhinitis, sinusitis, front etc.)
GI.20; Е.2

DISEASES OF THE ENDOCRINE SYSTEM:

Diseases of the endocrine system (diabetes mellitus compensated and subcompensated)
RP.4 

SKIN DISEASE:

Diseases of the skin and subcutaneous fat (allergic dermatoses, etc.)
P.7 ; RP.2

DISEASES OF THE CARDIOVASCULAR SYSTEM:

Cardioneurosis
С.7
Arterial hypertension
GI.15 ; МС.6
Arterial hypotension
E.36
Diseases of blood vessels (varicose veins of the lower extremities, obliterating endarteritis, etc.)
E.36 ;RP.9

DISEASES OF THE RESPIRATORY SYSTEM:

Tracheitis
VC.19
Bronchitis, asthma
Р.9 ; Gi.4 

DISEASES OF THE DIGESTIVE SYSTEM:

Stomach and duodenum (gastritis, uncomplicated peptic ulcer, etc.)
Е.36 ; С.7
Liver and gallbladder (biliary dyskinesia, non-calculous cholecystitis; consequences of hepatitis, etc.)
VB.37 ; F.14
Pancreas (chronic pancreatitis)
RP.4 ; RP.6
Bowel (dysbiosis, colitis, hemorrhoids, etc.)
V.25

DISEASES OF THE MUSCULOSKELETAL SYSTEM AND CONNECTIVE TISSUE:

Upper limbs (arthrosis, arthritis, etc.)
Gi.4 ; VB.20
Lower extremities (arthrosis, arthritis, etc.)
V.63 ; VB.34
Common low back pain
V.60 ; V.28
Consequences of injuries of the musculoskeletal system (poorly consolidating fractures, reflex sympathetic dystrophy, etc.)
RP.2 ; TR.5

DISEASES OF THE GENITOURINARY SYSTEM:

Kidney (pyelonephritis, nefertitis etc.)
R.6 ; V.60
Bladder (cystitis, urinary incontinence in women, etc.)
V.28
Of the prostate (prostatitis)
Е.30 
Uterus (uterine fibroids in the postoperative period)
F.5 ; RP.6 
Ovaries (dismenorea, adnexitis, etc.)
R.7

ONCOLOGICAL DISEASE:

Benign tumors, precancerous conditions, malignant tumors of various localizations
Е.36 ; RP.2 
In our materials we use the French abbreviations of acupuncture points. This chart lists the translation to the equivalent English abbreviations.
For example:  MC6 is equivalent to P6 (Pericardium).
| | | |
| --- | --- | --- |
| French | Name of meridians | English |
| V | Bladder | B |
| VC | Conception Vessel | CV |
| C | Heart | HT |
| VB | Gall Bladder | GB |
| VG | Governing Vessel | GV |
| R | Kidney | KI |
| GI | Large Intestine | LI |
| P | Lung | LU |
| F | Liver | LV |
| MC | Pericardium | P |
| IG | Small Intestine | S |
| RP | Spleen | SP |
| E | Stomach | ST |
| TR | Triple Warmer | TW |